Mohamed Badi has called for a crisis meeting in mid-August 2021 to discuss the operationalisation of the Green Park  bus terminus located near Old Railways Club in Nairobi.
The meeting is also set to address the stalemate and possibly settle the matter out of court.
The Kenya Airforce Lieutenant will lay down a roadmap for launching the terminus which has been marred with interests from different sector players, some accused of being cartels out to exploit matatu owners, commuters and traders.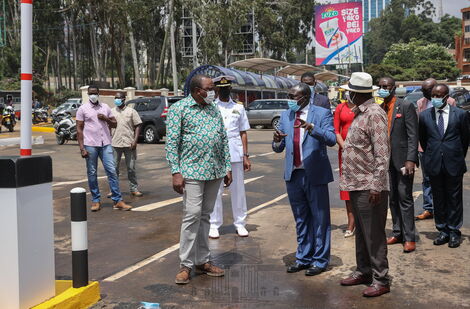 President Uhuru Kenyatta (in green shirt) and former Prime Minister Raila Odinga (in a brown shirt) at Green Park Terminus on Thursday, April 1, 2021.
PSCU
Green Park, which cost approximately Ksh300 million, remains unoccupied as NMS has kept on postponing its launch date. President Uhuru Kenyatta and his handshake partner, ODM leader Raila Odinga, have made several tours to inspect its construction and final touches.
Matatu owners accused NMS of excluding them from negotiations and key meetings centred around the launch of the park, expected to reduce traffic gridlock in the capital. They alleged that the project was doomed after its trials reportedly failed and indicated that the terminus would create more havoc rather than ease traffic snarl-up.
"The trials exposed that Green Park would escalate the traffic menace and NMS is not confident enough to tell authorities that the terminus would not work," lamented drivers.
"Entry and exit into and out of the park is a major issue as vehicles get stuck, passengers are stranded and this stretches traffic all the way into the city."
NMS, however, denied these claims by the matatu operators.
"We use marshalls to direct traffic at the terminus and also guide passengers and passers-by," NMS Transport Director, Engineer Michael Ochieng stated.
He added that the authority would figure a way to avoid confusion during the morning run tests and that they were analysing how best to drop off passengers, restructure common exits and re-analyse last-mile connectivity.
Plans to expand feeder roads into the park were reportedly rocked by wrangles at City Hall, Nairobi County Assembly's headquarters.
The agency is also constructing termini at Fig Tree in Ngara, Bunyala and Workshop Road, Muthurwa and Globe Cinema Roundabout.